CANADIAN WOMEN'S FOUNDATION
OVERVIEW
Since 1991, the Canadian Women's Foundation has funded programs that work to change the lives of women and girls in more than 1,900 communities across Canada, with the goal of moving women and girls out of violence and poverty and into confidence and leadership. The Foundation was looking for PR support to keep awareness high of its mission and impact.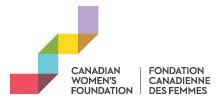 BROWN & COHEN SOLUTION
Promoted the Canadian Women's Foundation as a thought leader, focusing on

Resetting Normal

, a series of reports exploring ways to build a gender-equal Canada as part of pandemic recovery.
Ongoing outreach to media, offering experts for comment. 
Promotion of events, fundraisers, grants and other campaigns.
THE RESULT
Ongoing presence in the media with a reputation for excellent commentary.

Within the first 9-months of the PR program, there were 95 earned media hits, reaching 75,184,621 people at a cost-per-contact of $0.0003. 

Coverage included: The Globe and Mail, Refinery29, Entertainment Tonight Canada, Breakfast Television, Toronto Star, CBC News, CTV News, CP24, 680 News, iPolitics, The Loop, Metro, Halifax Examiner, Ottawa Citizen, Sudbury Star, SportsNet, Zoomer, and Macleans.