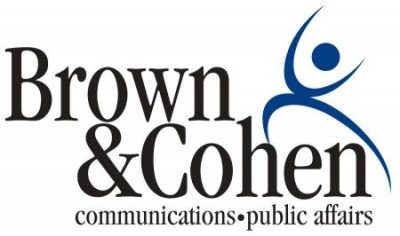 Former Parliamentary Press Gallery president Gord McIntosh is joining Toronto based Brown & Cohen Communications & Public Affairs as their senior Ottawa Consultant. The move is part of the firm's expansion plans and builds an Ottawa-based presence.
McIntosh spent 20 years as an award-winning journalist for the Canadian Press and writes a monthly column for Investment Executive magazine. Most recently, he was the Senior Advisor for Political Engagement and Communications at the Canadian Medical Association.
"Brown & Cohen lobbies at all levels of government which was a large factor in my wanting to join this team," said McIntosh. "I am excited to provide them with an expanded presence in Ottawa using both my media and government relations experience."
He joins Brown & Cohen, which was founded in 1991 by former Parliament Hill staffer, Howard Brown. McIntosh will work with Brown, as well as the firm's CEO, Kimberly Cohen, and Vice President, Wendy Kauffman, and the rest of their staff.
"Gord will be a great asset to our team and to our clients," said Brown. "Having someone with Gord's experience will help our current and future clients, who are looking to influence public opinion and impact legislation."
Brown & Cohen has seen an uptick in its government relations practice in recent months, as a result of both new client interest and government stimulus packages.
To respond to social distancing requirements during these unprecedented times of Covid – 19, Brown & Cohen has enhanced one of its key services. The firm has created tailored government relations 'Zoominars', to educate associations and companies on best practices for connecting with the government to achieve their objectives.
"The online client training has been a creative project that allows us to pivot our services and ensure clients remain well-prepared and active," said Brown. "We are building on successful government relations and media training programs that we have conducted for years."
Throughout the firm's history, Brown & Cohen has worked with companies across Canada to package their messages and connect with the right decision makers.
Brown & Cohen is the only Canadian company that is part of the PROI Worldwide network and works with 70 partner companies in the US, Europe, Asia and Australia providing cross-border communications service to brands with multi-national needs. Brown & Cohen is a full-service firm specializing in government relations, public relations, crisis communication and social/digital marketing. They are a  past recipient of the Canadian Public Relations Society Award of Excellence for government relations campaign of the year.
For more information contact Brown & Cohen Communications & Public Affairs:
Alex Ross at 416-484-1132 ext. 4 alex@brown-cohen.com or Stephanie Gomes at ext. 5 stephanie@brown-cohen.com